Today I am thrilled to have Meredith from Perfection Pending here to share a fabulous crockpot recipe with us. Meredith has some great parenting posts up, I love this one about why Moms are terrible drivers. Check Meredith out and make sure to leave her some comment love.
Hi! My name is Meredith, and I'm a mom to three blogging over at Perfection Pending.


I mostly blog about life with three kids, and how I'm trying to learn to let go of perfectionism, but I also love sharing recipes that I've tried, taste yummy, and my kids will eat!! This recipe is so easy and simple because it uses ingredients that you almost always have on hand. AND it uses the best kitchen invention ever….the crockpot!
When it gets warmer outside, it's time to break out the crockpot, because who wants to be slaving over a hot stove or sticking their head in an oven? Not me! So, here it is. I hope you love it (and more importantly, I hope the kids will eat it too!)
Creamy Crockpot Chicken Noodle Soup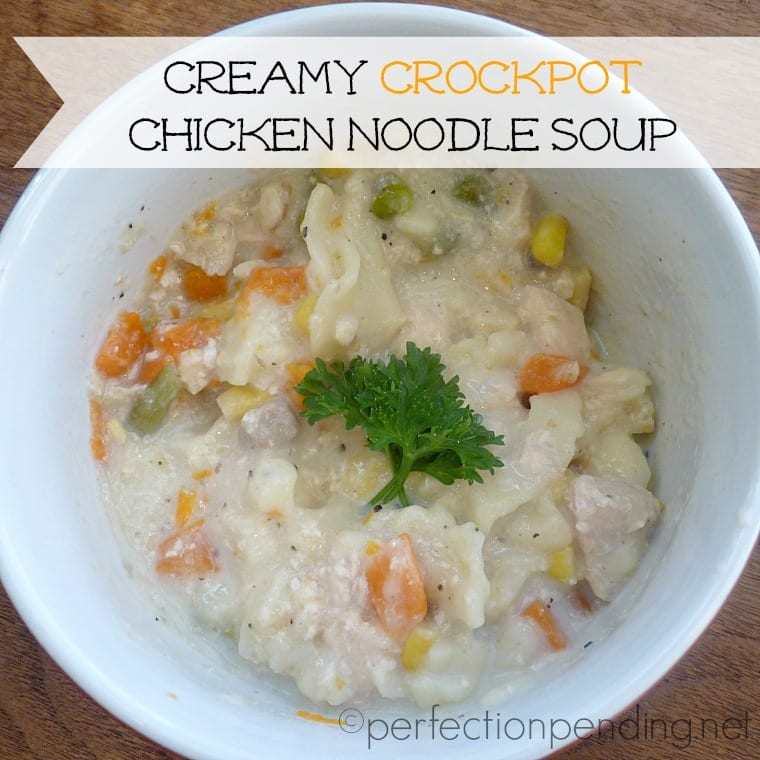 Here's what you'll need: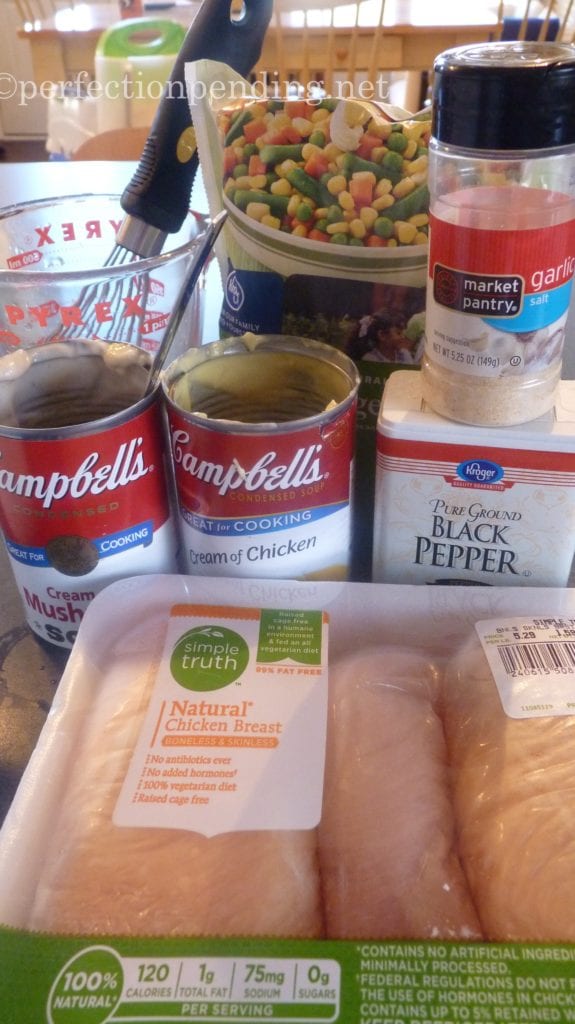 Ingredients
1 10 oz. can of cream of chicken soup
1 10 oz. can cream of mushroom soup
5 cups water
2 large chicken breasts, still slightly frozen
1 9-10 oz. package frozen mixed veggies
1/2 teaspoon pepper
1 teaspoon garlic salt
2 cups dried egg noodles
Defrost frozen chicken just enough to cut into cubes. In your crock pot, add both soups and whisk in the 5 cups of water until well blended. Then, add frozen chicken, vegetables, pepper and garlic salt. Cut pepper in half if your kids sometimes complain of things being "too spicy". We get that a lot around here. 🙂 Cover, and cook on low heat for 6-8 hours or on high heat for 4 hours. If cooking on low, switch to high 20 minutes prior to eating and add the dried egg noodles.
*Don't overcook noodles or they will become very soft and mushy.
That's it! Enjoy!!
You could also check out some of my other recipes like my Cilantro & Black Bean Salad or 30 Minute Chicken Pot Pie as well as my Turkey Greek Pitas with Cucumber Tzatziki Sauce. Thanks so much for having me Debra!!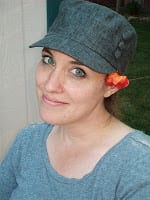 Meredith is a mother of 3 that is all about trying to be "real" when it comes to motherhood after years of trying to fake perfection. But, it's the hardest job she's ever done. She loves blogging about all the perfect and not so perfect moments on her blog, Perfection Pending.