Today, I am so excited to have one of my favorite people in the whole word, Marissa from Rae Gun Ramblings, here to share a fantastic project. Marissa is a creative and sewing master, some of my favorite projects from her blog include her DIY Moby Wrap and her Fancy Nancy Dress Tutorial. If you are a Harry Potter fan, be sure to check out the amazing Harry Potter baby costumes in her shop! Make sure you check out her blog and leave some comment love!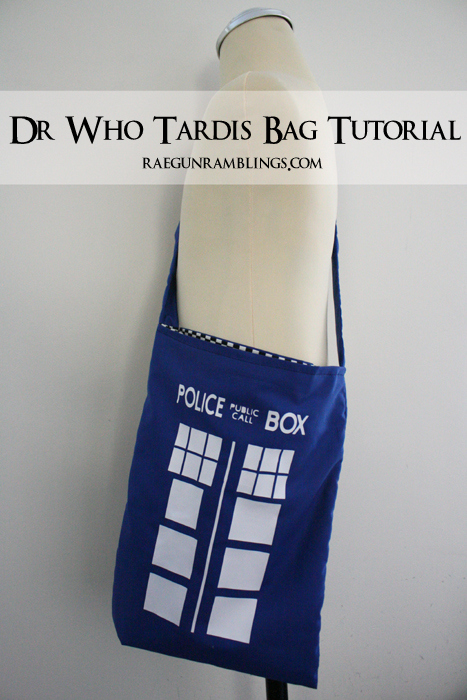 I am so stinking excited to be here while Debra has some time recovering and getting use to life with her new sweet baby girl. If you didn't already know Debra is a HUGE Whovian, like themed phone case, belt buckle, t-shirt wearing Dr. Who fan. So I thought for my post today that I'd share an easy Tardis Bag Tutorial to celebrate her obsession. But before we get to that I should probably introduce myself.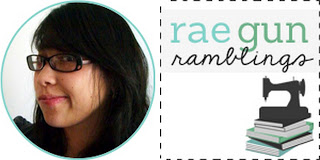 I'm Marissa from Rae Gun Ramblings where I blog about all things creative, yummy, and bookish. I also run a shop where I sell handmade baby clothing and bookish fan gear as well as some that counts as both (can you say little Gryffindor outfits?).
Make Your Own Tardis Bag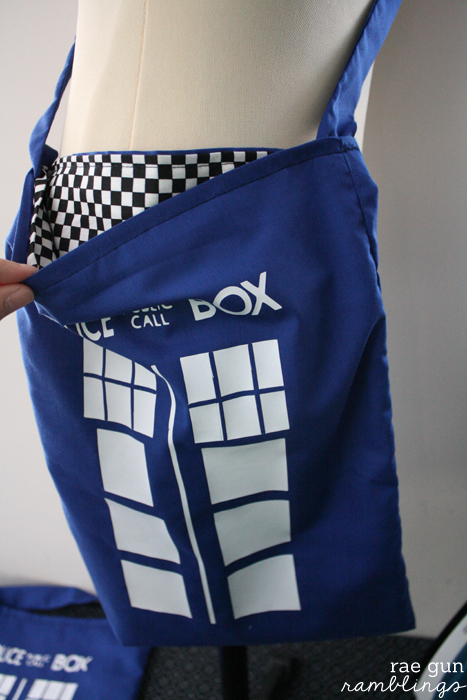 What You Need
Blue Fabric 36 x 12 inches and 4 x 44 inches
Lining fabric 36 x 12 inches
White iron on Vinyl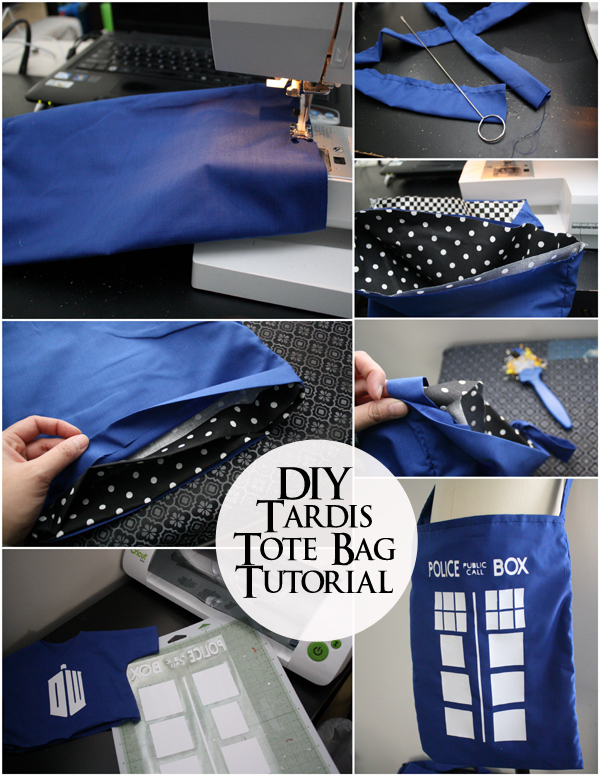 What to Do
Fold your fabric pieces in half lengthwise so the right sides are together and sew up both edges on the large pieces and the long side on the strap piece.
Turn the strap right side out and iron.
Turn the blue fabric right side out and stuff the lining inside.
Fold both the blue bag and lining bag under 1 inch and iron.
Tuck the strap between the blue fabric and lining fabric and pin at the seam. Sew around the top of the bag making sure to catch the straps.
Next make your Tardis image out of iron-on vinyl. If you've never used iron-on vinyl be sure to check out my how to use heat-transfer vinyl post for basics, tips, and tricks. If you use Cricut Craft Room you can just use my file by downloading it here. Otherwise it's easy just to cut out boxes by hand. You'll need 5 that are the same size squares. One with the same height but a little more narrow rectangle then the boxes with the windows (just cut the large rectangle then cut the lines and pull the boxes slightly apart). Also cut a long line. And finally you'll need to cut the lettering (make sure to cut it out mirrored so when you iron it it will face the right direction). Easy peasy.
Iron on and you're good to go.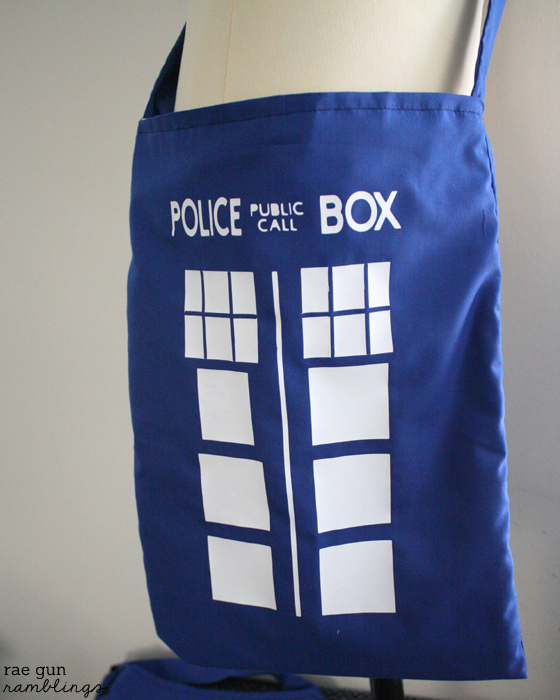 So there you go now you (and Debra) can revel in your Dr. Who geekiness together! If the bag tutorial went a little fast you can see my tutorial for my 15 minute reversible book bag tutorial which uses the same steps with just a slightly different size bag.

I hope you'll stop by
Rae Gun Ramblings blog
and say hi. Here are a few of my favorite posts in an attempt to lure you in 😉 But really thanks for having me Debra. I cannot wait to snuggle your cute little girl!
Let's connect! You can also find me hanging out here.
Please follow and like us: