I am convinced that nobody in the world has it more together than Kindergarten Teachers. Every time I volunteer in my daughter's classroom I stand in awe of her teacher. I can't get two kids to do what they are supposed to, let alone almost 30.
For teacher appreciation week this year, I was in charge of pulling together a gift for her teacher. I wanted to give her stuff she could use in her classroom and things that were just for her with a tote bag to hold it all.
I used a fabric tote bag with maroon heat transfer to make the bag. I fount the font for the Keep Calm
here
.
Remember when cutting heat transfer with a machine, you always need to be sure to flip/mirror your images or you text will be backwards when you iron it on. Feed your heat transfer into the machine with the carrier (clear plastic sheet) down. The settings you need vary from machine to machine. Cut the heat transfer and the weed out the extra.
Preheat your shirt or other surface for about 3 seconds with a iron set at 325 degrees. Place the main design side down on the tote down. Apply firm pressure on ALL parts of the design for 10-15 seconds. Flip the tote bag inside out and apply heat and pressure on the design from the inside as well. Peel the clear carrier sheet off while the design is still hot. . You can find video instructions for cutting and applying heat transfer
here
.
Aside from the tote bag, I included glue sticks, paper clips, popsicle sticks, scissors, dry erase markers and some paper as well as some chocolate and a Olive Garden giftcard for her too.
The teacher loved the gift and it was overall really easy to pull together!
What do you do for teacher appreciation?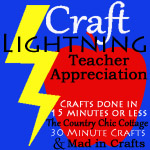 Please follow and like us: