I'll be honest… I started three posts for today and gave up on all three of them because I just wasn't feeling it. It is summer and the sun is shining (finally, after all the rain we've gotten here in my "desert") and I want fun things to do OUTSIDE, which is about the least computer- or web-related thing on the planet since summer fun is not only most often outdoors, it also often (at its best) involves water.
Not so good for webby devices, eh?
So, instead of those posts (which you'll get to see later, I promise), I just want to share with you some really fun summer blog events going on right now that will give you PLENTY of ideas of fun things to do and make this summer: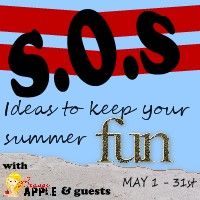 S.O.S.! (Save Our Summer!)
at Brassy Apple
Color My Summer (event and contest)
at kojodesigns and delia creates


Summer Camp book series
at Oopsey Daisy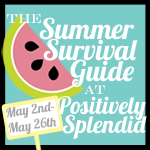 The Summer Survival Guide
at Positively Splendid


Funner in the Summer
at 30 Days
Creating Really Awesome Free Trips
at C.R.A.F.T
And, to finish it out,
Make a Memory Mondays
at A Little Tipsy
Happy summer 🙂

Lu (or Lorene if you prefer) is the mom of one squirmy boy and the wife of a singing and dancing elementary teacher. She is the proud author of this weekly Wednesdays on the Web (WotW) segment here on Housewife Eclectic and spends the other days of the week blogging about crafts and whatever else comes up at just Lu.